Keep Your Ford Vehicle Running Smoothly with Regular Service in Greensburg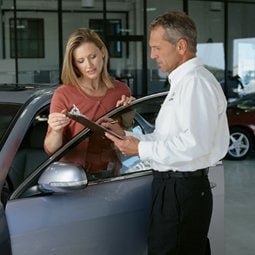 Scheduling regular service is the best way to keep your Ford vehicle running smoothly for years to come. Fortunately, the pros here at Don Meyer Ford Inc. know exactly how to care for your car and keep it in excellent shape so that you can enjoy more miles of adventure and fewer big service issues. Our service center is outfitted with all the tools and equipment our pro technicians need to tackle your car's routine maintenance needs, and we're ready to help you whip your car into shape.
From the Routine to the Unexpected, Count on the Don Meyer Ford Inc. Service Team to Handle it All
You already know routine oil changes and other regularly scheduled maintenance appointments are essential to your vehicle's longevity. At Don Meyer Ford Inc., we're proud to offer these services, and much more, at our dealership, conveniently located in the greater Indiana area. The menu of services we offer and can help with include everything from brake repairs, to exhaust checkups, to warranties and recalls. We strive to make owning a F-150, Escape, Explorer, Bronco Sport or Ranger easier, and we accomplish that with an experienced service center.
Take Advantage of Professional Ford Service in Greensburg
The best part about using our dealership service center is we make it easy to get your vehicle the service it needs. Our topnotch customer service standards mean we'll fix your vehicle correctly, do it quickly, and that we strive to make it better on your busy schedule. Use our online service scheduling form to pick the day and time that works for you to bring your vehicle in, and we'll do our best to accommodate that and get you in when it's convenient to your life. Reach out online or stop by and let's get your vehicle into the Don Meyer Ford Inc. service center for maintenance soon.